The Cast
Drama, humour, concern and conflict are guaranteed when a group of 22 middle aged women who are total strangers get on their bicycles and set off on a gruelling 58-day, 3,135 mile journey across the Southern States of America.
How will these women cope with the demands of the relentless physical toil, and the challenges of living closely with people so different from themselves?
What on Earth happens when an openly gay woman befriends a conservative Reverend? And how does an exuberant vivacious chef create marvels in a tiny mobile kitchen while hiding a major personal health scare?
Filmmaker Lisa Burd documents every aspect of the women's arduous physical and emotional journey, from San Diego, California, to St. Augustine, Florida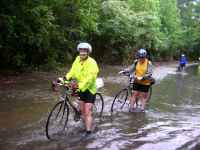 Scene Setting
Changing Gear is a feature length documentary that follows the women (aged between 45 and 72) during their two-month marathon cycle trip across canyons, deserts and rivers. Their epic journey represents a formidable challenge despite the enormous support and goodwill the women receive from people along the route. As their individual stories unfold, it becomes clear that every participant is on a profound personal odyssey.
Local Flavour
Along the way many other characters make their contribution to the documentary with tall stories, tales and remarks which add humour and drama. The rich cultural heritage and music of the Southern States adds to the flair of the recorded material, including an Afro-American road construction stop/go man with a memorable soulful voice sings an original song that evokes the mood of the South.
Back on the road the women face dangers every day from lecherous truckers, washed out roads and mad chasing dogs. They are also heartened and encouraged by considerate people along the way who cheer them on or greet them at the end of each long day.
Slowly but surely the epic journey deeply influences each of the women taking part. The documentary captures the life altering transformation that takes place as a group of women face up to the challenges they meet along the way and develop into a group of self-assured, strong and resilient women.